The event is SOLD OUT!
You don't want to miss the launch of our 2019/20 Celtic Folk season. Irish folk singer, Pat Kelleher, is joining us on his Western Canadian tour. For the closing set, we welcome back On Irish Street – who will be joined by Émile Hooper. Check out the full descriptions below.

The evening is at Hickey's Place in a concert format (attentive audience), with three acts, and a cash bar.
Previous concerts sold out so don't wait to get your tickets – you've been warned.
On Irish Street

This group of talented musicians returns to Celtic Folk for another set of lively songs and tunes. They have also played together at the Water Valley Celtic Festival, the Rocky Mountain Folk Club, numerous functions at the Irish Centre, and in a weekly session at the Oaktree Tavern in Calgary.
Emilie Kirwan (fiddle) is from Ballynacally, a village outside Ennis in Co. Clare. She attended the University of Limerick and has a Master's degree in Traditional Irish music performance. Martin Hayes and Gerry O'Connor were just two of her instructors.
Émile Hooper (mandolin/banjo) has been playing traditional music on the mandolin and the banjo since 2015 and has been playing in local Irish music sessions since 2018.
Derick Perry (singer/guitarist) is from Belfast Co. Antrim. He has performed solo and played with various bands at Celtic Folk, Rocky Mountain Folk Club, and Water Valley.
Eileen Perry-Milligan (bodhran/vocals) is also from Belfast. Co. Antrim and has played with groups at Celtic Folk and Water Valley and the Rocky Mountain Folk club as a duo with Derick. Her bodhran was built by Dave Settles.
Pat Kelleher
"Great set of songs and lovely singing." ~ Christy Moore 2008
One listen to any of Irish folk singer Pat Kelleher's music, and you can immediately hear the distinctive Irish lilt in his baritone voice. He has many diverse influences and performs traditional folk songs and sea shanties, contemporary songs, and also bluegrass and old-time; with an emphasis on several styles of playing the five-string banjo as well as being an accomplished guitarist. More recently, he is a songwriter.
The youngest of five, he was weaned primarily on Irish folk music – also with international folk, bluegrass, rock and country. He started playing music at about age five on the button accordion and then at about eleven started playing the five-string banjo and by fourteen was playing guitar and singing. He played his first public gig at age sixteen, and the rest is history.
His music is influenced by icons on both sides of the Atlantic including The Clancy Brothers and Tommy Makem, The Dubliners especially Luke Kelly, Christy Moore, Pete Seeger, Stan Rogers, and many more.
Pat's live performances are not to be missed. He builds a rapport with his audience and often invites the audience to participate. He likes to blend stories and Irish history into his song introductions. Pat has toured Ireland, UK, Germany and some of the U.S. in his more than thirty-year career and is always well received wherever he performs.
Get Reel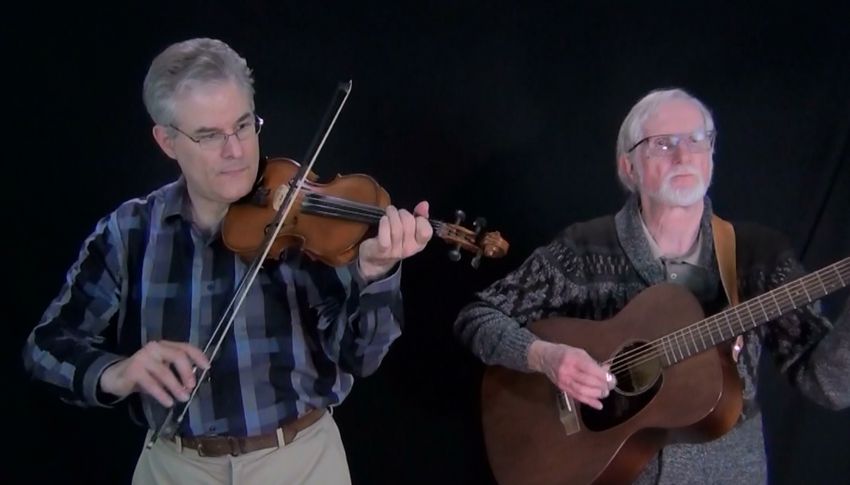 Hailing from the East Coast of De Winton and the North Shores of Calgary, our crew will explore a lively set of songs and tunes from the Maritimes, Folk and other Celtic traditions. Get Reel is Doug Wagner (vocals, bodhran, guitar, and fiddle) and Greg Black (vocals, guitar, electric bass, and octave mandolin).
When the fog is just right you can almost smell the ocean, hear the waves and a foghorn in the distance,  and see the shipwrecks.
Event Details
Date and Time: Saturday, October 5th 2019 at 7 pm to 10:30 pm (doors open 6:15)
Location: Irish Cultural Society – Hickey's Place (downstairs)
Address: 6452 35 Ave NW (Bowness), Calgary, Alberta
Notes: Cash only bar, concert format, and most importantly it will be fun. Due to the nature of running concerts, all ticket sales final.
Tickets are via Brown Paper Tickets (secure checkout):


Brown Paper Tickets Ticket Widget Loading...

Click Here to visit the Brown Paper Tickets event page.