Spring is always a mixed bag in Calgary so join us for another exciting mashup of talented Celtic musicians. The evening will explore a variety of music from the haunting airs of the Celtic harp, some old Irish favourites, a taste of the Maritimes, and end with a heaping of new takes on Celtic and popular music. Check out the full line-up below.

The evening is at Hickey's Place in a concert format (attentive audience), with three bands, and a cash bar and pub style food (via A Certain Flair Catering).

Previous concerts sold out so don't wait to get your tickets – you've been warned.
My Son Ted
Originally formed in 1998 as Celtic band, Tir na n'Og, changing times, tastes, and, temperaments have fueled our reinvention as My Son Ted. With a repertoire that still honours our Celtic roots, the My Son Ted set list is heavily populated by both inspired originals and re-imagined covers of popular rock and folk music. The band's line up has varied over the years, but the current stable of musicians has been static over last 5 years allowing the growth and change necessary to achieve our current dynamic sound.
My Son Ted is:
Brian Volke –  vocals, guitar and mandolin
Christie Simmons – vocals, guitar, ukelele and whistles
Shawn Kingston – vocals, guitar and mandolin
Colin Peters – vocals, fiddle
Brad Uphill – percussion
Rob McConnell – bass
This multi-instrumental six piece backs soaring harmonies; taking you from mournful ballads that will have you stifling a tear to rip-it-up dance tunes that are sure to bring you to your feet.
Gerry Madigan
Folksinger/songwriter and banjo/guitarist, Gerry Madigan, is a seasoned professional with an impressive musical pedigree. Originally from Dublin, Ireland, where he was weaned on the Dublin Folk Music scene that spawned artists like The Dubliners, Paul Brady, Christy Moore, Andy Irvine and many more, he subsequently enjoyed 15 successful years on the road with his own band, The Cotton Mill Boys. Gerry has called Calgary home for the past 19 years.
His accompaniments to his Irish and contemporary folk songs are subtle and sensitive. Whether he's singing a classic Irish song like 'Raglan Road', or telling the tale of Irish emigration in his poignant song, 'Ellis Island', all of his performances are passionate and memorable. Gerry recently released his brand new CD of all original material last year, entitled, 'Wild Bird, Fly Free'.
Kathy Pepers
Kathy Pepers started the piano at the age of 5 and found the Celtic harp only after flirting with a long line of other instruments. Raised with a rich appreciation for classical music, she discovered Celtic music along with the harp and is now smitten with a deep love for both.
She is grateful to be able to share both harp and music at church services, weddings, funerals and various special events and concerts in the Calgary community, and she is always especially glad to take part in events like Celtic Folk and the Water Valley Celtic Festival that shine a light on and share that beautiful Celtic music!
Get Reel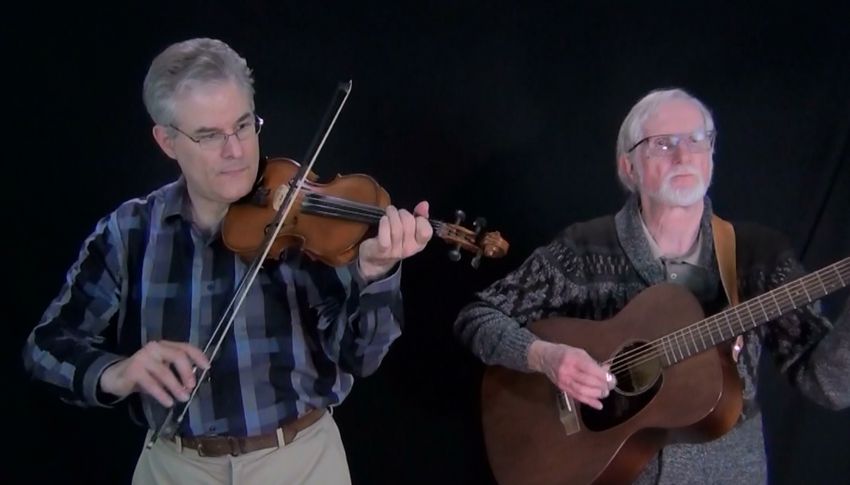 Hailing from the East Coast of De Winton and the North Shores of Calgary, our crew will explore a lively set of songs and tunes from the Maritimes, Folk and other Celtic traditions. Get Reel is Doug Wagner (vocals, bodhran, guitar, and fiddle) and Greg Black (vocals, guitar, electric bass, and octave mandolin).
When the fog is just right you can almost smell the ocean, hear the waves and a foghorn in the distance,  and see the shipwrecks.
Event Details
Date and Time: Saturday, April 13th at 7 pm to 10:30 pm (doors open 6:15)
Location: Irish Cultural Society – Hickey's Place (downstairs)
Address: 6452 35 Ave NW (Bowness), Calgary, Alberta
Notes: Cash only bar and pub food, concert format, and most importantly it will be fun. Due to the nature of running concerts, all ticket sales final.
Tickets are via Brown Paper Tickets: 


Brown Paper Tickets Ticket Widget Loading...

Click Here to visit the Brown Paper Tickets event page.