Join us at Celtic Folk as we present a varied and lively musical journey emerging from family, roots, and numerous musical traditions – intertwined with Celtic influences.
The evening is at Hickey's Place in a concert format (attentive audience), with three bands, and a cash bar. New: We have a caterer providing pub style food – cash only.
Note: Alex is unable to join our show Saturday – we've lined up another fantastic Irish fiddler / group.
Previous concerts sold out well beforehand so don't wait to get your tickets.
Horizon Ridge
Horizon Ridge is a group of fine multi-instrumentalists and seasoned vocalists known for their intuitive, tight harmonies and polished a cappella singing.  Helen and Steve Goodchild, Peter May and Dianne Quinton take musical inspiration from their roots and subsequent journeys near and far.
Horizon Ridge brings an engaging stage presence to performances. With influences spanning traditional and contemporary folk, country, blues, rock and gospel, the band is versatile and adventurous.
Their first CD, Enough is all you need, was released in July 2016.  A mix of original and cover songs, it showcases the band's ability to move effortlessly between different musical styles and genres.
The band members, who are based in Calgary, Alberta, have played festivals, music clubs and concerts in Canada, the US and UK. They have also taught a range of musical workshops in individual and group settings.
Alex Kusturok Featuring Deanna Dolstra
Alex Kusturok is a third generation fiddle player whose passion for music became apparent early on. Alex followed his mother Patti to Old Time dances around Manitoba, where he was enriched with the Métis fiddle from a very young age. By the age of 7, fiddle became his primary focus.
Culture has always played a huge part in Alex's music and his life. His father, from Wabigoon Lake First Nation in Ontario, made sure that Alex learned of his aboriginal heritage. Between his mother's fiddle and his father's guitar, there is no question that Alex would take to the music and continue to pass on the tradition.
Alex is in high demand as a performer, instructor and competition judge across Canada. Alex's blend of styles is greatly influenced by the Quebecois and Cape Breton fiddle styles; however, the Métis style remains at the forefront of his playing. He has released three albums Groove (2009), For Old Times Sake (2014), and Almost Live (2017).
Alex will be joined on stage by Deanna Dolstra.
Get Reel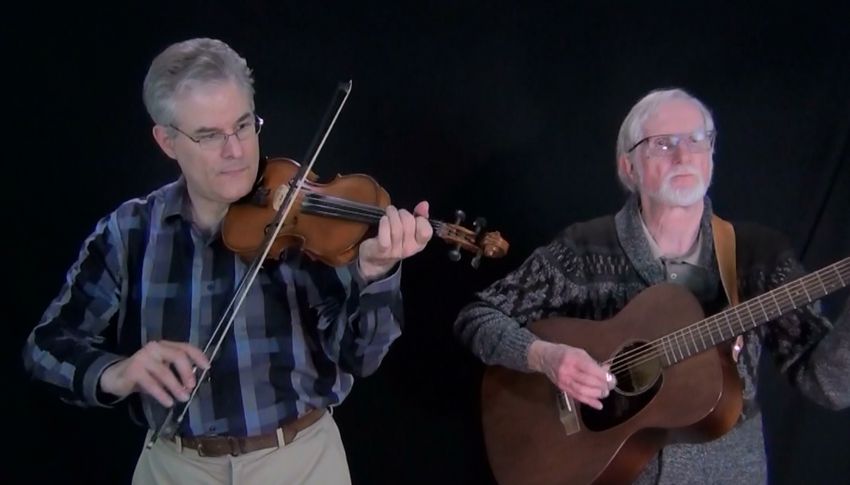 Hailing from the East Coast of De Winton and the North Shores of Calgary, our crew will explore a lively set of songs and tunes from the Maritimes, Folk and other Celtic traditions. Get Reel is Doug Wagner (vocals, bodhran, guitar, and fiddle) and Greg Black (vocals, guitar, electric bass, and octave mandolin).
When the fog is just right you can almost hear the waves, smell the ocean, and see the shipwrecks.
Event Details
Date and Time: Saturday, October 13th at 7 pm to 10:30 pm (doors open 6:15)
Location: Irish Cultural Society – Hickey's Place (downstairs)
Address: 6452 35 Ave NW (Bowness), Calgary, Alberta
Notes: Family friendly, cash only bar, concert format, and most importantly it will be fun. Ticket prices include an additional $2.50 to cover Alex and Deanna's travel costs.
Tickets are via Brown Paper Tickets: This is a past event.