Fasten your seatbelts and enjoy the musical journey while we drive along Alberta's Celtic Trail. The performers for the night will be sharing songs and tunes from Scotland, Ireland, and Canada's East Coast. This show is an excellent warm-up for the Water Valley Celtic Festival on June 23rd. As a bonus, we'll get you back to Calgary right afterward.
The last concert sold out well beforehand so don't wait to get your tickets.
The evening is at Hickey's Place in a concert format (attentive audience), with three bands, and a cash bar.
Hazel Grey and the Hubcaps
Hazel Grey and The Hubcaps are two versatile and dynamic groups of musicians who will be joining forces to perform a set of Celtic music for the evening's show.
The Hubcaps are Brock Smith and Murray Cameron, friends since school days, who have performed and toured the world together as part of the "Stratus Singers" and the showband "Stratusfaction" as well as "The Hubcaps."  Their humour and extensive repertoire bring toe-tapping smiles to every show. Sometimes, they join with Brock's daughter and son-in-law, who together form their own band.
Hazel Grey consists of Peter and Josanna Justine, who moved to the USA in 1998 and began writing, performing and recording together, touring much of the US; and eventually relocated back to Calgary in 2005. Their blended vocals, plus Pete's guitar style and Josanna's varied instrumentation, give Hazel Grey a strong palette with which to share their love of music and stories of life.
The combined band gets together from time to time to present their eclectic mix of Celtic music at places such as the Water Valley Celtic Festival, Canmore Highland Games, and Fionn MacCool's pub in Calgary.
On Irish Street
This group of talented musicians returns to Celtic Folk for another set of lively songs and tunes. They have also played together at the Water Valley Celtic Festival, the Rocky Mountain Folk Club, formal functions at the Irish Centre, and in a weekly session at the Oaktree Tavern in Calgary.
Emilie Kirwan (fiddle) is from Ballynacally, a village outside Ennis in Co. Clare. She attended the University of Limerick and has a Master's degree in Traditional Irish music performance. Martin Hayes and Gerry O'Connor were just two of her instructors.
Dan Mills (vocals, flute, whistles, guitar, and bouzouki) is an accomplished musician from Newfoundland. Danny was a mainstay in the popular band "The Freels with Fergus O'Byrne and Maria Peddle.
Derick Perry (singer/guitarist) is from Belfast Co. Antrim. He has performed solo and played with various bands at Celtic Folk, Rocky Mountain Folk Club, and Water Valley.
Eileen Perry-Milligan (bodhran/vocals) is also from Belfast. Co. Antrim and has played with groups at Celtic Folk and Water Valley and the Rocky Mountain Folk club as a duo with Derick. Her bodhran was built by Dave Settles.
Get Reel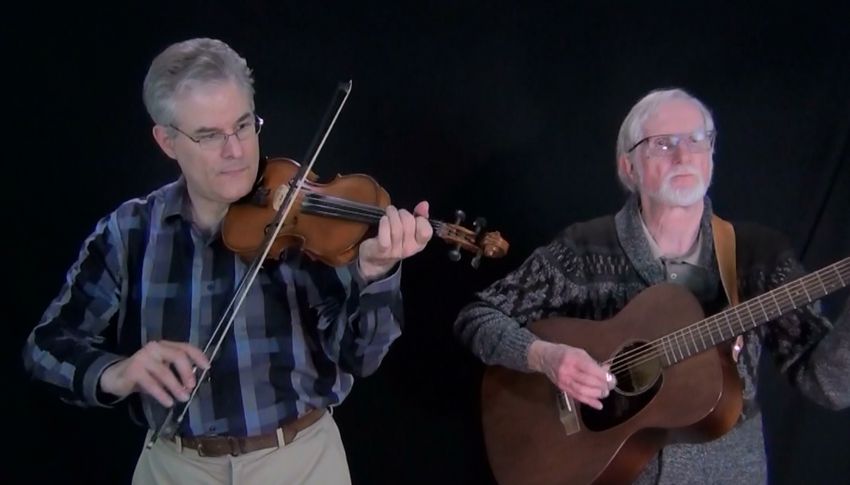 Hailing from the East Coast of De Winton and the North Shores of Calgary, our crew will explore a lively set of songs and tunes from the Maritimes, Folk and other Celtic traditions. Get Reel is Doug Wagner (vocals, bodhran, guitar and fiddle) and Greg Black (vocals, guitar, electric bass and octave mandolin).
When the fog is just right you can hear almost hear the waves, smell the ocean, and see the shipwrecks.
Event Details
Date and Time: Saturday, June 2nd at 7 pm to 10:30 pm (doors open 6:15)
Location: Irish Cultural Society – Hickey's Place (downstairs)
Address: 6452 35 Ave NW (Bowness), Calgary, Alberta
Notes: Family friendly, cash only bar, concert format, and most importantly it will be fun.
Tickets are via Brown Paper Tickets: Event is in the past.