Tune in on November 16th, at 7 pm in Calgary – 10:30 in Newfoundland.
We are bringing back one of the bands that helped us launch the new Celtic Folk concert series back in April of 2018. The evening includes other wonderful musicians as well as (checks notes) some cello. It will be another great show.
The evening is at Hickey's Place in a concert format (attentive audience), with four acts, a cash bar and pub-style food (cash only).

Previous concerts sold out so don't wait to get your tickets – you've been warned.
Morrissey's Private Stock
Most of these lads have been transplanted to Calgary, Alberta from the rugged shores of Newfoundland where the Celtic music, along with strong Irish history and traditions run in their blood. 
Steve Morrissey (Vocal/Guitar/Bodhran) 

Matt O'Leary (Accordion/Mandolin)

Lenny Dalton (Vocal/Bodhran/Guitar) 

Fonz Hann (Mandolin/Guitar) 

Sandy Aberdeen (Bass/Whistles/Banjo)   
East Coast & Celtic sound, influenced by growing up on the rugged shores of Newfoundland. Toe-tapping tunes to keep ya moving and coming back for more.
Inspired by The Navigators, Fine Crowd, Eddie Coffey, Shanneyganock, Ron Hynes, The Fables, Irish Descendants, Rum Ragged, Simani, Matthew Byrne, The Pogues, Great Big Sea, Daoiri Farrell and Christy Moore.
Also, our parents for giving us this history and talent to share!
Barry Luft
Barry Luft's singing has woven rich, colourful threads into the fabric of folk-style music in Alberta for more than fifty years.
Barry presents Canadian, British and American songs and ballads with instrumental accompaniment or a cappella arrangements. He engages his audiences in these musical performances and gives a healthy lift to minds, hearts and voices. Good times leave good memories!
Much of Barry's material is unusual and refreshing. It comes from sources across North America and the British Isles and is seldom known in the everyday music scene. For example, in his repertoire are songs learned first hand at guitar and music camps.
A variety of instruments perks up Barry's performances and his intricate style on the five-string banjo is his trademark. He was taught at age five to play the harmonica by his dad. Other instruments now include guitar, autoharp, English concertina, and Appalachian dulcimer. However, to this day, Barry claims he's not able to read music well enough to hurt his playing.
Cathy & Nobuo
Versatile performer Nobuo Kawaguchi teams up with cellist Cathy Checora to present their distinctive renditions of some of your favourite folk and pop tunes. Both Calgary artists are regular attendees at a local music camp, where they first encountered each other and soon realized that a collaboration was in order.
You are sure to enjoy their arrangements featuring vocal harmonies variously accompanied by ukulele, guitar, upright bass, and cello.
Get Reel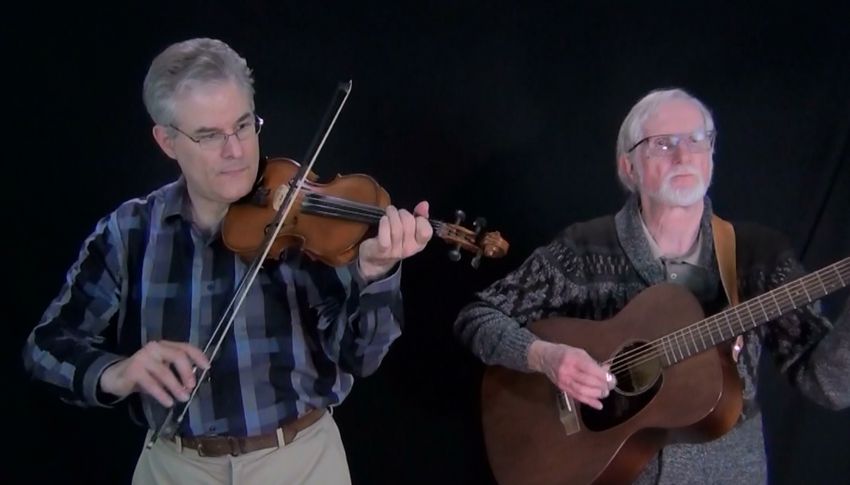 Hailing from the East Coast of De Winton and the North Shores of Calgary, our crew will explore a lively set of songs and tunes from the Maritimes, Folk and other Celtic traditions.
Get Reel is Doug Wagner (vocals, bodhran, guitar, and fiddle) and Greg Black (vocals, guitar, electric bass, and octave mandolin).
When the fog is just right, you can almost smell the ocean, see the shipwrecks, hear the crashing waves and a tiny trace of fiddlin' in the distance far behind him.
Event Details
Date and Time: Saturday, November 16th, 2019 at 7 pm to 10:30 pm (doors open 6:15)
Location: Irish Cultural Society – Hickey's Place (downstairs)
Address: 6452 35 Ave NW (Bowness), Calgary, Alberta
Notes: Cash bar and pub-style food, concert format, and most importantly, it will be fun. Due to the nature of running concerts, all ticket sales final.
Tickets are via Brown Paper Tickets (secure checkout):


Brown Paper Tickets Ticket Widget Loading...

Click Here to visit the Brown Paper Tickets event page.